Pictures Of The 10 Largest Church Auditorium In Africa

---
Pictures Of The 10 Largest Church Auditorium In Africa
opera.com
Africa is home to 10 of the 15 largest church auditorium in world and also the largest church auditorium in world is located in Africa with modernized buildings.
The list is based on the human seating capacity of the evangelical church auditoriums
Below are the 10 largest church auditorium in Africa.
10. Winners Chapel ( Living Faith Bible Church), Kenya
The Winners Chapel Sanctuary on the New Likoni Road in Nairobi's South B, is a gigantic landmark. Similar to the typical traditional communal gathering in African setting of a fireplace in the homestead, the church is built in the shape of a hexagon, giving the congregants a clear view of the pulpit at the centre of the building.
As the church grew to about 10,000 members, their sanctuary at Adams Arcade on Ngong' Road became too small to accommodate the swelling numbers. That is when they bought the land on which the new sanctuary is standing.
According to senior pastor David Adeoye, the 15-acre land was purchased in the year 2000, and application sought for change of user from light industry to church.
The Winners Chapel architectural plan is adapted from a master plan from parent church, Faith Tabernacle, a 50,000-seater church in Lagos Nigeria. According to the former chairperson of the church building committee, Samuel Kimani, a contractor by profession, the architect for the master plan was Nigerian, Pastor Azubike Nwoke who has been endorsed locally.
The auditorium is 10th largest in Africa and 15th in the world.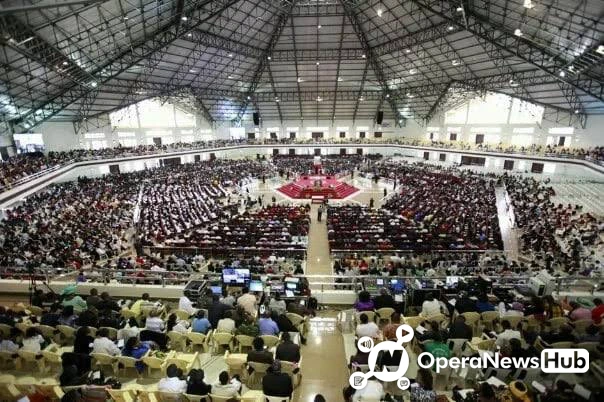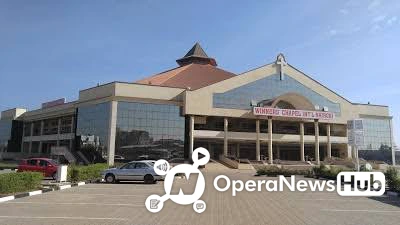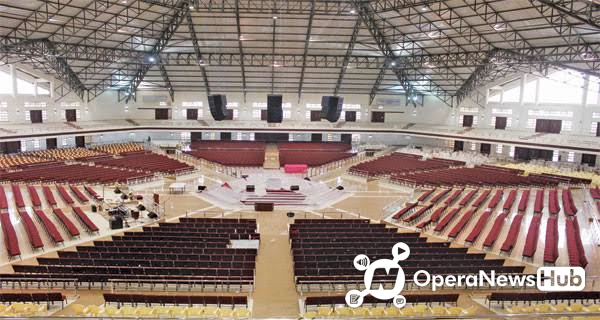 9. Church of Nations/ Bethel Tabernacle (International Evangelism Center - African Interior Mission), Burkina Faso
International Evangelism Center - African Interior Mission (French: Centre international d'évangélisation - Mission intérieure Africa INE) (CIE-MIA) is an Evangelical charismatic Christian denomination and a megachurch. The headquarters is located in Ouagadougou, Burkina Faso. Its leader is Mamadou Karambiri.
On November 2, 1998, the Bible training center, Le Chandelier, located near the CIE premises in Ouagadougou opened its doors.In 2010, the church founded Impact TV.
The CIE had 6000 members in 2010.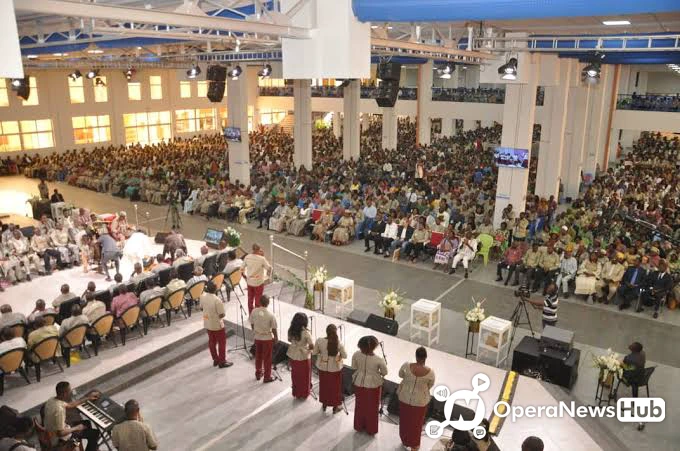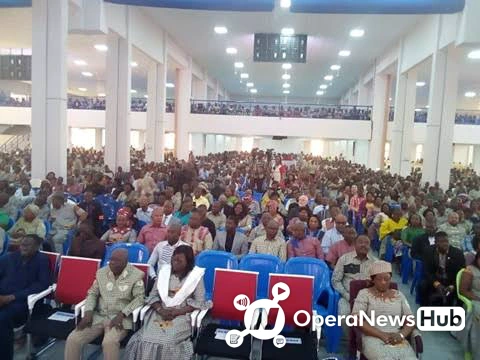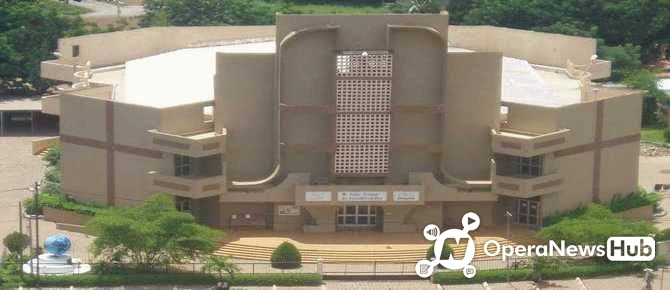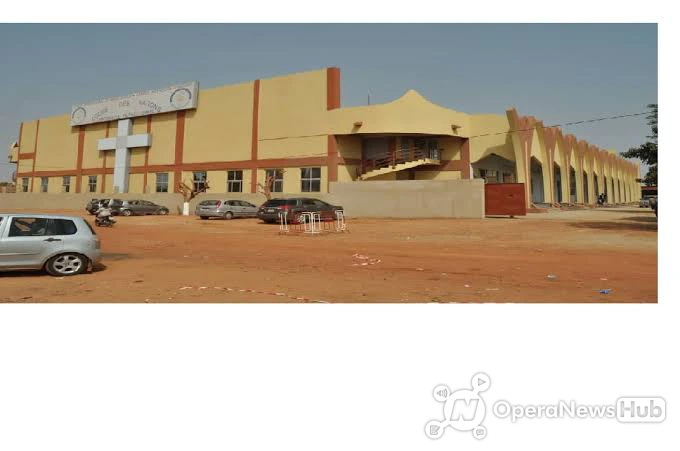 In 2020, a 12,000-seat temple, the Church of the Nations/Bethel Israel Tabernacle, was inaugurated in Ouagadougou and the denomination had 600 churches worldwide.
8. Perez Dome ( Perez Chapel International) , Ghana
Perez Chapel International is an evangelical, Pentecostal Charismatic Christian church. It was founded by bishop Charles Agyinasare and is headquartered in Accra, Ghana in Dzorwulu.
Perez Chapel International was founded under the name of Word Miracle Church International by Charles Agyin-Asare in 1987 in Tamale.
In 1994, the headquarters were transferred to Accra and a new church was established with 70 people.
In 2011, it inaugurated the Perez Dome, a 14,000-seat temple.
In 2013, the Perez Dome had 7,000 members and the denomination had 50,000 members in Accra.
It took the name of Perez Chapel International in 2013.
. In 2017, it claimed to have 400 churches in 16 countries with the 8th largest Auditorium in Africa and 13th in the world.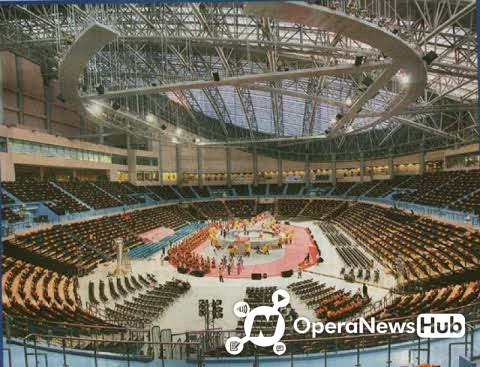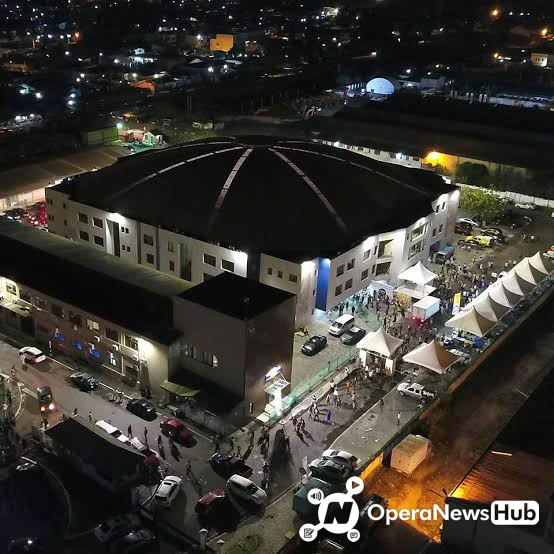 7. Liberty Worship Centre International Church, Uganda
Liberty Worship Centre International Church in Kampala is arguably the most extravagant church in the region, with a 15,000 seat capacity. Pastor Imelda Namutebi's new worship centre took 10 years to build at a cost of Ushs7B ($2.8 million).
The Liberty Worship Centre is located in Lugala, Rubaga division in Kampala and sits on 17 acres of land. The 3 storied building has state of the art décor with a tiled auditorium, exquisite lights with stage beaming and a turn-key plug and play sound system.
It has a mezzanine to accommodate a large number of worshipers. The church also has a VIP area for Uganda's members of parliament. A media area allows for live coverage of church services.
Liberty auditorium is the 12th largest in world and 7th in Africa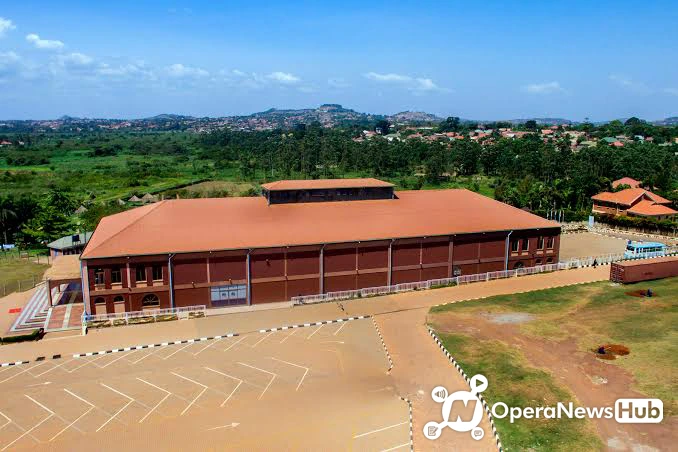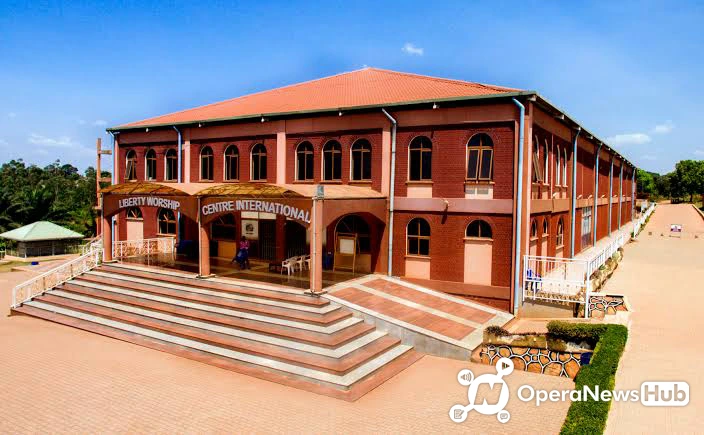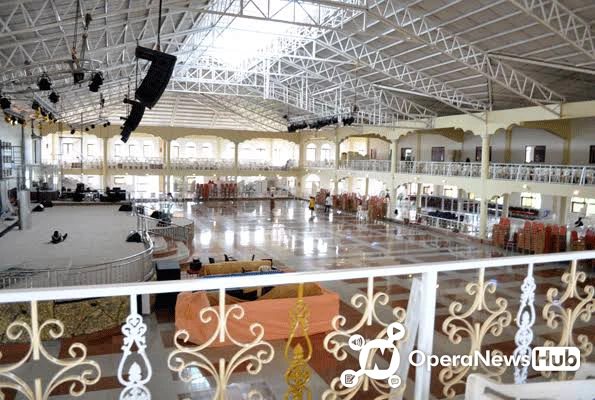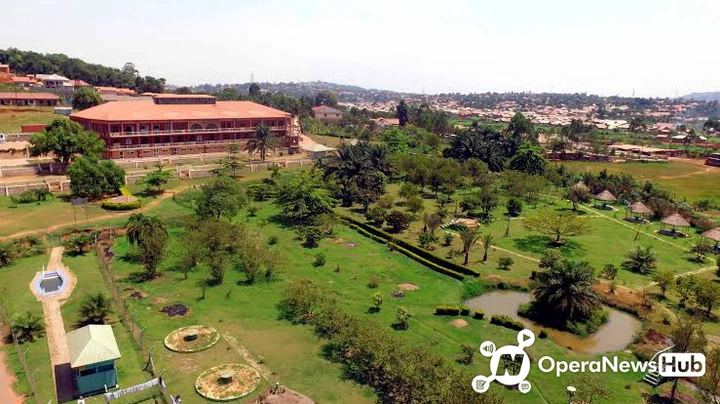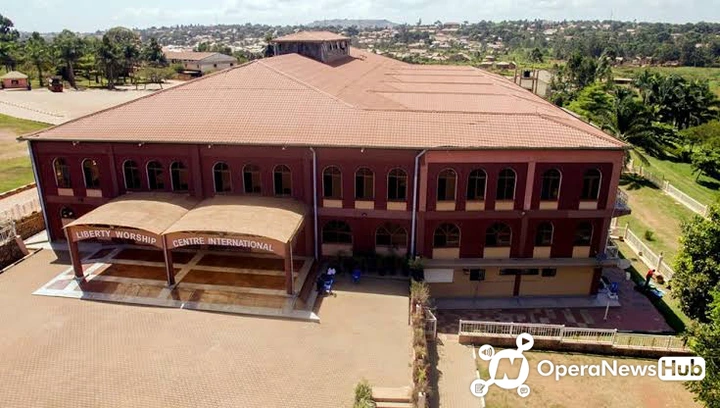 6. Deeper Life Christians Centre, Nigeria
Deeper Christian Life Ministry is a Pentecostal Christian denomination with its international headquarters, Deeper Life Bible Church Lagos in Lagos. It is overseen by the General Superintendent of Deeper Life Bible Church, Pastor William Folorunso Kumuyi.
The church has spread throughout sub-Saharan Africa and then to the United Kingdom, from where branches were developed in western Europe, Russia, India, and North America.
In April, 2018, The Deeper Christian Life Ministry had its new headquarters church with 30,000 capacity at Gbagada commissioned with the Vice President of Nigeria, Yemi Osinbajo among other dignitaries.
The auditorium is the 6th largest in Africa and 8th largest in the world.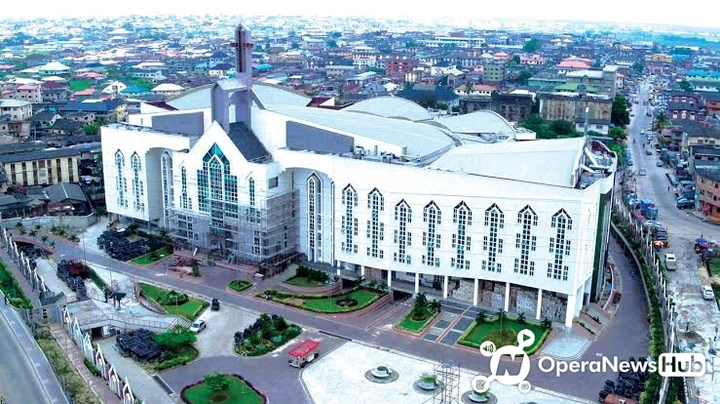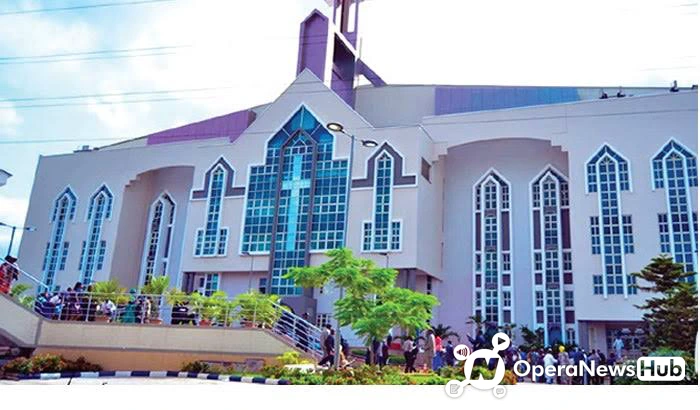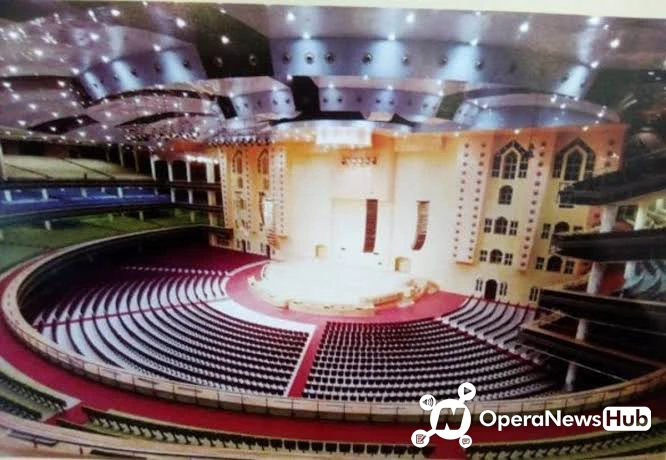 5. Christians International Centre (World Of Life Bible Church), Nigeria
Word of Life Bible Church (WLBC) is a Pentecostal Christian megachurch located in Warri, Delta, Nigeria. It is one of the largest congregations in Nigeria, averaging about 35,000 attendees per week.
The church now has congregations in over 70 locations worldwide and currently owns the 5th largest church auditorium in Africa and 6th in the world.
The senior pastor is Ayo Oritsejafor with his wife, Helen, who serves as co-pastor.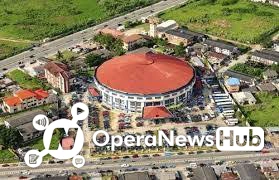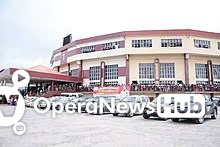 4. Faith Tabernacle ( Living Faith Bible Church), Nigeria
Faith Tabernacle is an evangelical megachurch and the headquarters church of Living Faith Church Worldwide.
It is at Canaanland, Ota, Lagos, Nigeria, current neo-charismatic movement. The senior pastor of this community is David Oyedepo since its founding in 1983. In 2015, the attendance is 50,000 peoples.
The Faith Tabernacle is the 4th largest church in Africa and 5th in the world.
Living Faith Church Worldwide (also known as Winners Chapel) an Evangelical charismatic Christian denomination and a megachurch. The headquarters is located in Ota, Nigeria. The organization has since become a global network of churches with congregations in 65 countries.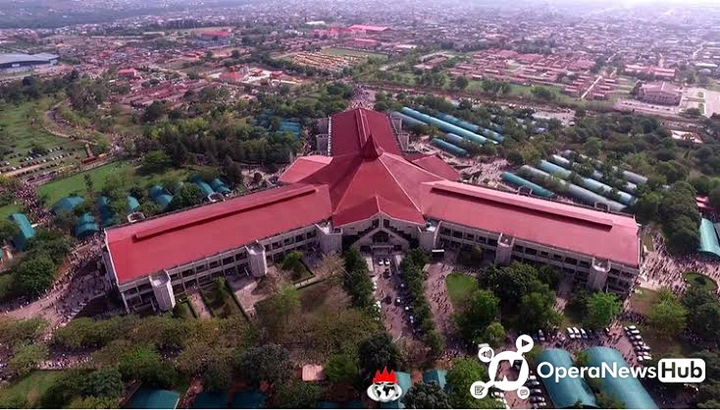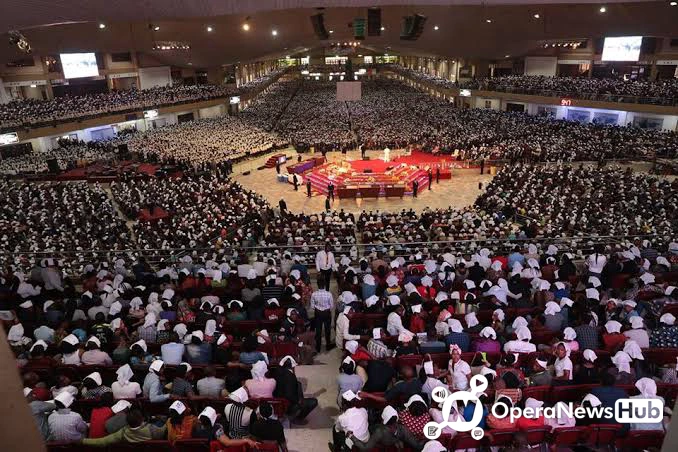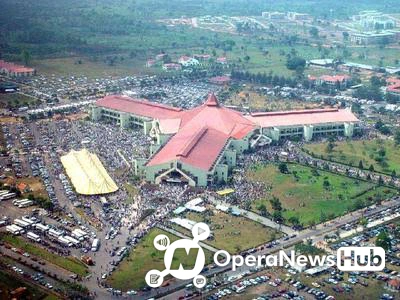 3. Champions Royal Assembly
Champions Royal Assembly is a church based in Abuja, Nigeria and owns the third largest Auditorium in the world with a capacity of 80,000
Located in a rather suburban section of Byazhin, Kubwa, a satellite town under Bwari Area Council of the Federal Capital Territory, Champions Royal Assembly has in nine years transformed that community to a big tourist destina­tion of sorts, adding serious value, by its presence, to the economy, apart from its primary duty of imparting spiritual well being to the people.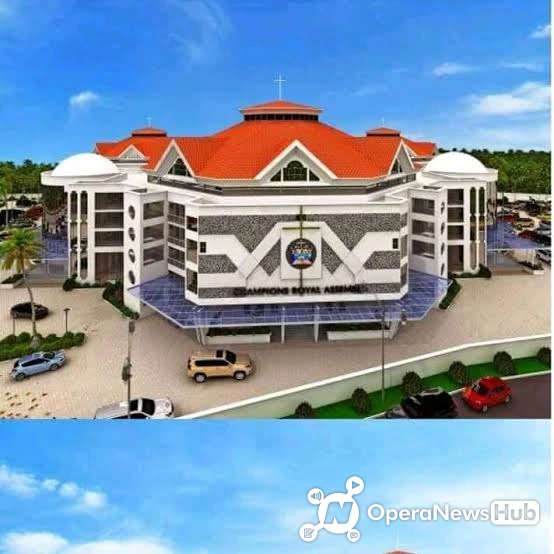 2. Glory Sanctuary Dome ( Dunamis International Gospel Centre) , Nigeria
The 100,000-seater edifice is one of the facilities in the expansive The Lord's Garden built by the Dunamis International Gospel Centre (DIGC) led by Dr. (Pastor) Paul Enenche, one of Nigeria's foremost clergymen.
The Lord's Garden is located on Umaru Musa Yar'Adua Way (formerly Airport Road) in Abuja, Nigeria's capital. Apart from the Glory Dome, there are other structures and facilities in the Garden, whose groundbreaking was performed in September 14, 2014 by the presiding bishop of the Living Faith Church a.k.a Winners Chapel, Bishop David Olaniyi Oyedepo.
The facilities include Rose of Sharon Gardens (for leisure), Still Water Restaurant, Destiny Christian Academy (a Boarding and Day School), Pastors Quarters and a Water Fountain.
The roof spans 228m and will cover 22,148m2 – that's over 2 hectares (5 acres) without any interior columns!
The project was undertaken by Geometrica. Geometrica , Inc. designs and builds Domes and free form structures for Architectural and Industrial Applications. The Company specializes in space frames, building large structure, such as architectural structures and Industrial dome.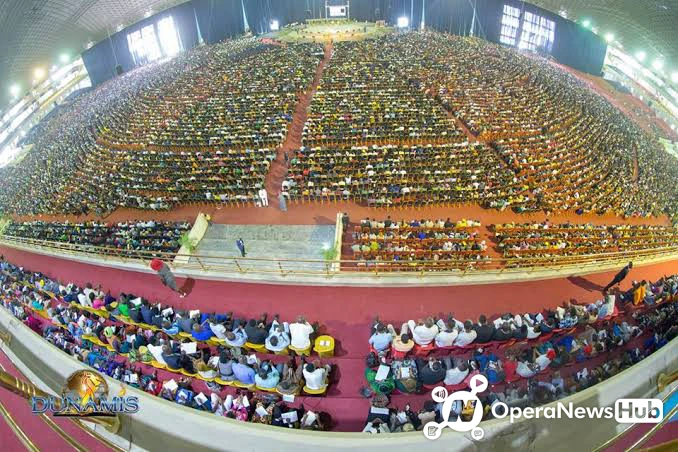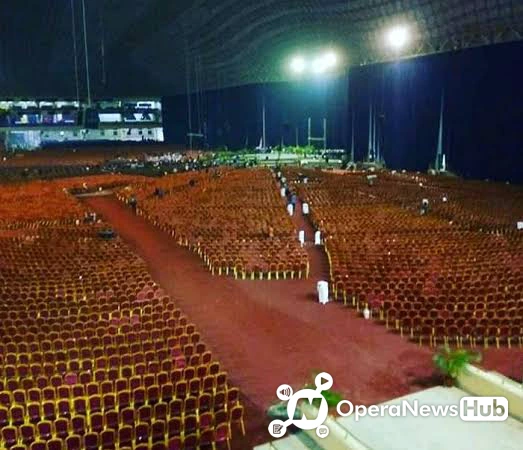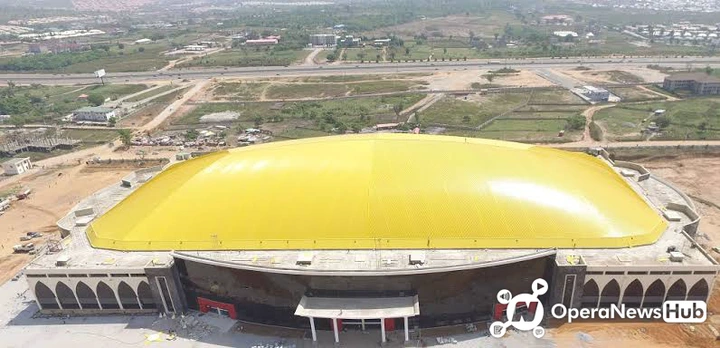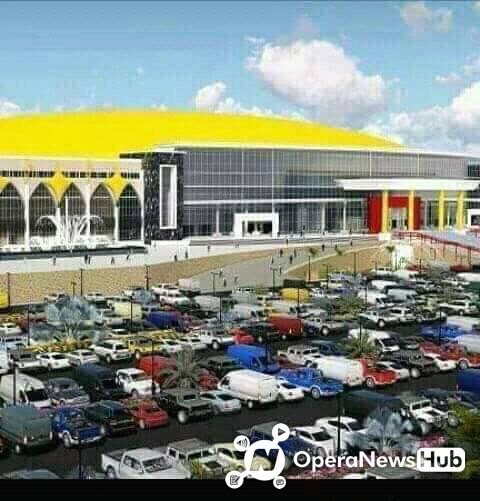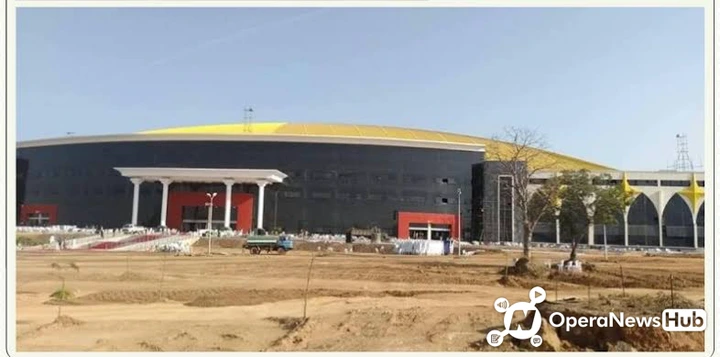 1. Hand Of God Cathedral ( Salvation Ministry), Nigeria
Hand of God Cathedral is a120,000 capacity cathedral of Salvation Ministries will be Dedicated in 2020, and is regarded as the largest church auditorium in the world.
After completing his Bible School training at Bishop David Oyedepo's Word of Faith Bible Institute (WOFBI), Ibiyeomie started a house fellowship with his family in Victoria Island, Lagos; he later moved to Port Harcourt, Rivers State, where he started Salvation Ministries (Glorious Chapel) on April 13, 1997, with a little over twenty members in attendance.
In July 1997, the church relocated to a larger plot of land.
As of 2017, Salvation Ministries averages about 50,000 attendees every Sunday at its headquarters.
In February 2011, Salvation Ministries started 14 satellite churches in one day, with all running five services each.
Salvation Ministries Cathedral happens to be one of the most significant projects in the whole of the South and Eastern Nigeria, the Chinese firm roofing the Cathedral said the project is the largest steel project in the world.
[NewsNaira]
---
Share this article!
<!—- ShareThis BEGIN -—> <!—- ShareThis END -—>
What is News₦aira Income Program(News₦IP)

---
News₦aira Income Program (News₦IP) is a system aimed at raising revenue for registered users that browse the NewsNaira Website. An online program driven by a goal of solving the financial problems among the youths, students, middle class and whoever wishes to take advantage of earning opportunity and making money online legitimately in Nigeria as it creates the channel for participants to earn residual income on weekly basis.
more
How News₦IP Works

---
News₦aira has 2 means of generating income for our members.
News₦AP: NewsNaira Affiliate Program - With News₦AP, participants earns ₦1,000 whenever they refer anyone to join NewsNaira Income Program. There is no limit to how many people you can refer.

News₦ARS: NewsNaira Ad Revenue Sharing - With News₦ARS, participants earns residual income bonus by reading news, commentting on articles, publishing forum posts, daily login to their NewsNaira account, and even sharing assigned sponsored post on social media.

We share our ads revenue with you weekly when you make NewsNaira community your news and information household.
more