I was broken when I saw the PYTHON Swallow my GOAT - Farmer cries in Akamkpa(PHOTOS)

---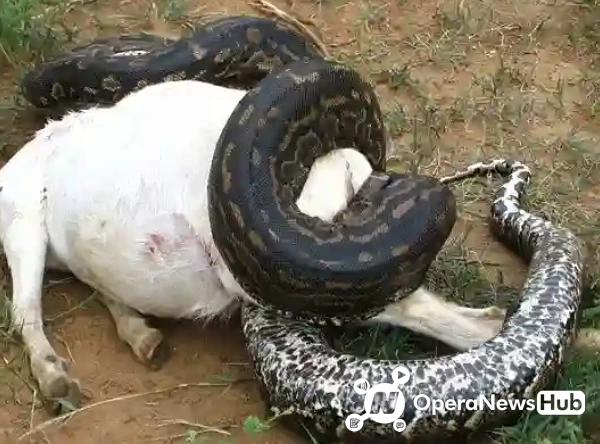 A farmer in Akamkpa, Cross River State shared a story of how a python invaded his farm, attacked his goats and tried to devour one of them on Sunday morning. 
Obong Ufia rares goats, birds and sheep. According to local reports, 80% of the people here depend on agriculture as their primary source of income. Obong Ufia owns one of the biggest domestic farms in Awi, Akamkpa. He said he has been in the business for over 25 years and that through out those years, Sunday morning was the first time he had ever seen a farm invader that big and scary.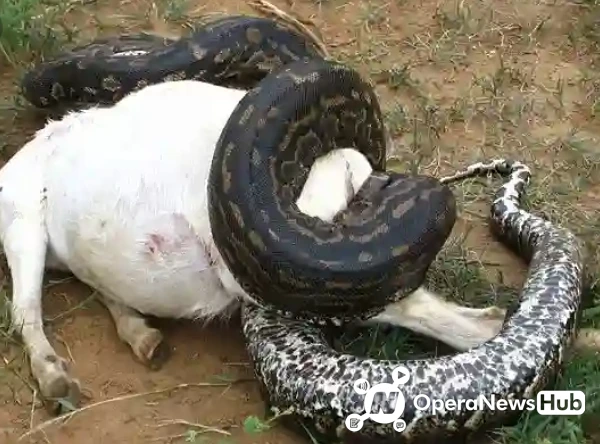 "I woke up very early on Sunday, around say 5, 5:30am, but before going out to fetch some food, I decided to first relieve myself in the abandoned bush behind my farm...In the process, I heard my goats bleating incessantly, I noticed some form of struggle, the sound got weaker and weaker and I suspected that something strange was ongoing" He said.
"I called my boy. Requested for my matchet (I first thought it was someone trying to steal my goat) and we moved in. What we saw broke me into pieces! A python was trying to devour one of my biggest goats, my asset. It had killed the goat already...I had plans to sell that goat in the next market day at Ekang." He complained.
Mr. Ufia said the snake was tired, freezed and could not move and his compound became a market place, a centre of attention for the day. How he dealt with the snake? He said he called for some able-bodied young men in the next compound to help him do the job. 
Interestingly, he claims he has sold the snake double the price of his "lost" goat to some "Alhajis" in his community. 
This was indeed a blessing in disguise. Guys, what you think?
[NewsNaira]
---
Share this article!
<!—- ShareThis BEGIN -—> <!—- ShareThis END -—>
What is News₦aira Income Program(News₦IP)

---
News₦aira Income Program (News₦IP) is a system aimed at raising revenue for registered users that browse the NewsNaira Website. An online program driven by a goal of solving the financial problems among the youths, students, middle class and whoever wishes to take advantage of earning opportunity and making money online legitimately in Nigeria as it creates the channel for participants to earn residual income on weekly basis.
more
How News₦IP Works

---
News₦aira has 2 means of generating income for our members.
News₦AP: NewsNaira Affiliate Program - With News₦AP, participants earns ₦1,000 whenever they refer anyone to join NewsNaira Income Program. There is no limit to how many people you can refer.

News₦ARS: NewsNaira Ad Revenue Sharing - With News₦ARS, participants earns residual income bonus by reading news, commentting on articles, publishing forum posts, daily login to their NewsNaira account, and even sharing assigned sponsored post on social media.

We share our ads revenue with you weekly when you make NewsNaira community your news and information household.
more