Meet The Man That is Implanted with Devil's Horn and Up to 453 Body Piercings

---
Meet The Man That is Implanted with Devil's Horn and Up to 453 Body Piercings
opera.com
May 16, 2020 6:08 AM
You may start by screaming, 'My goodness!' or by asking 'what sort of thing is this?' If you choose to scream or ask, that may just be fine as some things are beyond comprehension and can leave your jaw dropping.
We are all products of our choices and desires and it would just be a matter of time for our desires and our reality to become one if we can work daily to achieve whatever it is our heart so yearns for. Maybe we can say so for Rolf Buccholz.
Rolf Buccholz was born in the year 1959, and he holds the record as the world's most pierced man, that is according to Guinness World Record. There is 453 piercings throughout his body which are mostly on his face and genitals.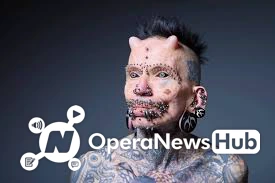 Rolf Buccholz, a computer expert from Dortmund, Germany fell in love with body piercing at the age of 41. He fancied body art, this made him to get up to 453 piercings in various parts of his body. They are broken down to 94 piercings in and around his lips, 25 in his eyebrows, 8 in his nose, and 278 in his genital area. No man in the world would stand in the records of Buccholz body piercings, but he does not oust the record of Elaine Davidson, who is the most pierced woman and human-being in the world, sporting up to 7,000 piercings all over her body.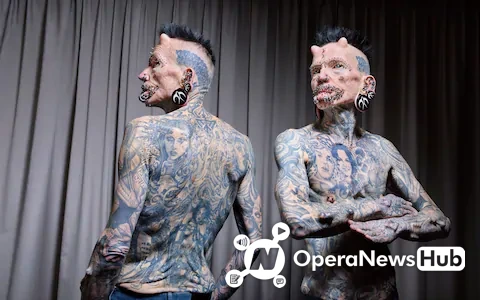 In addition to decorating his face with more than 100 piercings, he also received two faux devil's horns implants on his forehead. Bucholz also has passion for tattoos, sporting a full body suit that covers his entire torso and limbs.
Buccholz was denied entry into Dubai in August 14, 2014, over concerns about black magic, this made him miss out on his planned appearance at a Cirque le Soir nightclub.  
 I am left to wonder how he manages to live with all these sorts of body piercings, but according to him, he is just fine.
[NewsNaira]
---
Share this article!
<!—- ShareThis BEGIN -—> <!—- ShareThis END -—>
What is News₦aira Income Program(News₦IP)

---
News₦aira Income Program (News₦IP) is a system aimed at raising revenue for registered users that browse the NewsNaira Website. An online program driven by a goal of solving the financial problems among the youths, students, middle class and whoever wishes to take advantage of earning opportunity and making money online legitimately in Nigeria as it creates the channel for participants to earn residual income on weekly basis.
more
How News₦IP Works

---
News₦aira has 2 means of generating income for our members.
News₦AP: NewsNaira Affiliate Program - With News₦AP, participants earns ₦1,000 whenever they refer anyone to join NewsNaira Income Program. There is no limit to how many people you can refer.

News₦ARS: NewsNaira Ad Revenue Sharing - With News₦ARS, participants earns residual income bonus by reading news, commentting on articles, publishing forum posts, daily login to their NewsNaira account, and even sharing assigned sponsored post on social media.

We share our ads revenue with you weekly when you make NewsNaira community your news and information household.
more