24 Crazy Funny Road Signs

---
I'm personally not a driver, but I do like how one small pictogram with a few squiggly lines of a certain color can mean so much to the passing by drivers. I mean, I don't even pretend to understand what most of them mean, but there are road signs that don't require studying. Sometimes those signs can look pretty… confusing, to say the least. So let's see if I can guess what these 25 crazy road signs actually mean!
1. It's either a path that will lead you to a psycho, or… it just straight out tells you there's a psychopath living here.

2. And don't you even try running from a sniper. You'll just die of exhaustion.

3. Before you break my heart? Yeah, it's definitely a hospital sign.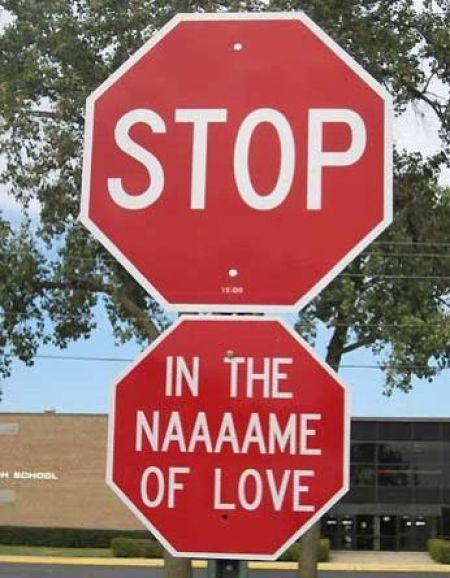 4. OR they may be good people whose car broke down. Geez, so judgemental.

5. It's gonna rain.

6. This is an actual incarnation of a woman: not like this, not that way, this way doesn't work either, you know what, just stop!


7. First snipers, now drones? What's next… sniper drones?

8. Yeah, that "good luck" really drives the point.

9. Too little, too late, little sign that couldn't.



10. Do… do I actually have to LOL?

11. Hide your wife, hide your kids, anime crabs are almost here!

12. Damn right they do! If I see a freaking Boeing trying to land on the road, I'll be the first one to pull over.



13. The moose is just trying to say good morning, eh!

14. This one goes out to all you Monty Python fans out there.

15. All roads lead to Rome (in Georgia), apparently.



16. Thanks for noticing my notice of your notice, notice.

17. Rainbow ahead! Don't forget to do stunts!

18. If my social life was a sign…



19. Time to get myself a penguin friend.

20. O, Flash, how far you've fallen.

21. Get ready to see the bloodiest Strike in the history of children bowling!



22. It sure does, sign, it sure does.

23. This has got to be Russia, right?

24. You'll scare the squirrels away, dude!

[NewsNaira]
Lmao
Lmfao
Lol
Funny
---
Share this article!
<!—- ShareThis BEGIN -—> <!—- ShareThis END -—>
What is News₦aira Income Program(News₦IP)

---
News₦aira Income Program (News₦IP) is a system aimed at raising revenue for registered users that browse the NewsNaira Website. An online program driven by a goal of solving the financial problems among the youths, students, middle class and whoever wishes to take advantage of earning opportunity and making money online legitimately in Nigeria as it creates the channel for participants to earn residual income on weekly basis.
more
How News₦IP Works

---
News₦aira has 2 means of generating income for our members.
News₦AP: NewsNaira Affiliate Program - With News₦AP, participants earns ₦1,000 whenever they refer anyone to join NewsNaira Income Program. There is no limit to how many people you can refer.

News₦ARS: NewsNaira Ad Revenue Sharing - With News₦ARS, participants earns residual income bonus by reading news, commentting on articles, publishing forum posts, daily login to their NewsNaira account, and even sharing assigned sponsored post on social media.

We share our ads revenue with you weekly when you make NewsNaira community your news and information household.
more