Mother Goose beds down at York railway station

---
Image captionMother Goose has taken up residence at the station
A goose which has moved into a flower bed at a now quiet railway station has captured "hearts and minds," according the station operator.
The bird, nicknamed Mother Goose, was first spotted last month by British Transport Police at York station.
Railway staff thought she had moved on when they did not see her for a day or so but she has since returned and has laid four eggs in total.
Staff have been posting videos of her daily activities online.
So far the videos have attracted 70,000 views.
The station has fallen quiet due to government restrictions on travel that may have attracted the goose to move in.
Greylag and Canada geese are common sights in York and the city is home to about 500 such birds, according to York City Council.
London North Eastern Railway (LNER), which owns the station, said it was thrilled.
"It's such a gorgeous, gorgeous story and we all need a bit of this in our lives at the moment," said LNER's director of communications Kate McFerran.
"She came in two weeks ago and had a bit of a look around and she's made herself very much at home in the flower bed."
Image copyrightLNER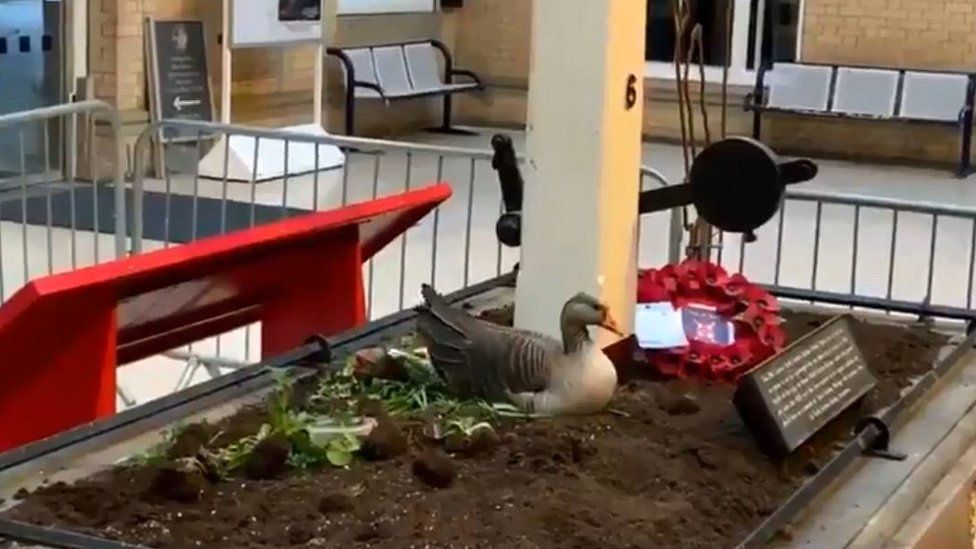 Image captionMother Goose appears quite happy with her new home
Ms McFerran said staff were putting food and water out for her and had placed some fencing around the flower bed for safety, but she was "very well behaved".
She said said their #GooseCam posts on social media showed her patrolling the railway station, sometimes with a companion, and looking after her eggs.
"It has made the news in Australia, in India, and all across the world. She's really captured hearts and minds."
Ms McFerran said she hoped that when the eggs hatched people would contact LNER with name suggestions for the goslings.
[NewsNaira]
---
Share this article!
<!—- ShareThis BEGIN -—> <!—- ShareThis END -—>
What is News₦aira Income Program(News₦IP)

---
News₦aira Income Program (News₦IP) is a system aimed at raising revenue for registered users that browse the NewsNaira Website. An online program driven by a goal of solving the financial problems among the youths, students, middle class and whoever wishes to take advantage of earning opportunity and making money online legitimately in Nigeria as it creates the channel for participants to earn residual income on weekly basis.
more
How News₦IP Works

---
News₦aira has 2 means of generating income for our members.
News₦AP: NewsNaira Affiliate Program - With News₦AP, participants earns ₦1,000 whenever they refer anyone to join NewsNaira Income Program. There is no limit to how many people you can refer.

News₦ARS: NewsNaira Ad Revenue Sharing - With News₦ARS, participants earns residual income bonus by reading news, commentting on articles, publishing forum posts, daily login to their NewsNaira account, and even sharing assigned sponsored post on social media.

We share our ads revenue with you weekly when you make NewsNaira community your news and information household.
more