EL-ZAKZAKY COULD DIE ANY MOMENT FROM NOW-DAUGHTER CRIES OUT

By Chriz 7 months ago 175
Health - Top Stories
---
Suhaila, daughter of the leader of the Islamic Movement of Nigeria (IMN) Ibraheem El-Zakzaky, has disclosed that her father could die any moment from now if urgent steps are not taken to treat him for lead poisoning.
Suhaila in an interview with BCC said the cleric deserves to get proper medical attention, "I am really worried… especially because of the lead and cadmium poisoning."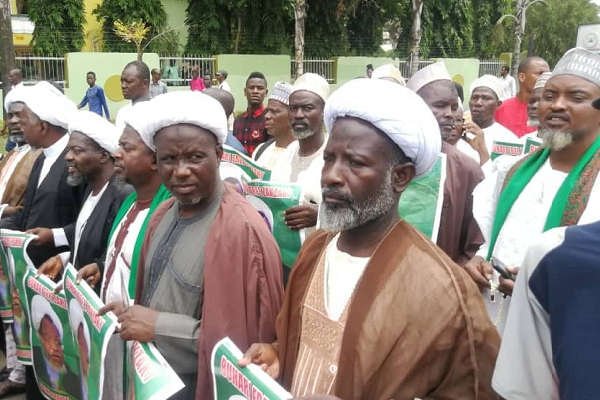 She said her father had not received proper medical treatment since his home was invaded by soldiers in 2015 when he was arrested, "His doctors say if he gets to a certain level his organs could start failing and that's scary because that means he could just die at any moment
Suhaila said her father told her that he was unhappy with the heavy presence of security operatives at the Medanta Hospital, New Delhi, where he is for treatment.
She said her father would like to be treated by his team of trusted doctors instead of the ones allegedly being arranged by Nigerian/Indian governments.
El-Zakzaky had departed Nigeria for India on Monday following the medical leave that a Kaduna High Court granted him, but he started raising alarm on Wednesday that the situation in India was worse than Nigeria.
The Indian authority threatened to deport him if he is not ready to abide by the terms of Indian authority.
He was accused of trying to check into a 5-star hotel, which was described as an unreasonable demand.
Suhaila El-Zakzaky, the daughter of leader of IMN- Sheikh Ibraheem El-Zakzaky.

Babe speaks with a strain of the American accent.

Haq haq haq
We don't know
We don't know why is gohion! https://twitter.com/rootstvnigeria/status/1156912027727728641 …

EL ZAKZAKY'S DAUGHTER DISOWN IMN OFFICIAL

Suhaila El-Zakzaky, the daughter of leader of IMN- Sheikh Ibraheem El-Zakzaky called on the Shiites to continue protesting until El Zakzaky is released

Her statement counters an order from an IMN spokesman suspending the protests
[NewsNaira]
Zalzaky
---
Share this article!
<!—- ShareThis BEGIN -—> <!—- ShareThis END -—>
What is News₦aira Income Program(News₦IP)

---
News₦aira Income Program (News₦IP) is a system aimed at raising revenue for registered users that browse the NewsNaira Website. An online program driven by a goal of solving the financial problems among the youths, students, middle class and whoever wishes to take advantage of earning opportunity and making money online legitimately in Nigeria as it creates the channel for participants to earn residual income on weekly basis.
more
How News₦IP Works

---
News₦aira has 2 means of generating income for our members.
News₦AP: NewsNaira Affiliate Program - With News₦AP, participants earns ₦1,000 whenever they refer anyone to join NewsNaira Income Program. There is no limit to how many people you can refer.

News₦ARS: NewsNaira Ad Revenue Sharing - With News₦ARS, participants earns residual income bonus by reading news, commentting on articles, publishing forum posts, daily login to their NewsNaira account, and even sharing assigned sponsored post on social media.

We share our ads revenue with you weekly when you make NewsNaira community your news and information household.
more