Couple who paid to cheat on daughter's ACT and SAT gets 1 month in prison

---
Victim's brother: I'm speechless about  sentenced Gregory and Marcia Abbott to 1 month in prison for paying $125,000 to falsely boost their daughter's ACT and SAT test scores as part of the college admissions scam.
Prosecutors say the couple paid $50,000 to have a proctor correct their daughter's answers on the ACT exam and an additional $75,000 to have the same proctor correct their daughter's answers on two SAT subject tests. The purpose of the fraud was to improve her prospects of getting into Duke, Marcia Abbott's alma mater, the government said.
The Abbotts both pleaded guilty in May to conspiracy to commit fraud. Prosecutors had asked that they be sentenced to 8 months in prison with a year of supervised release and a $40,000 fine.
Tuesday's sentence also includes 250 hours of community service, a $45,000 fine and one year of supervised release for each.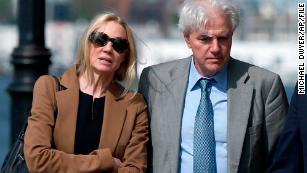 Marcia and Gregory Abbott leave federal court after they pleaded guilty to conspiracy charges on May 22, 2019.
The month-long sentence is similar to those given to other parents who participated in the test-cheating aspect of the college admissions scam. The actress Felicity Huffman was sentenced to two weeks in prison and Gordon Caplan was sentencedto one month in prison for similarly facilitating cheating on their children's standardized tests.
Those parents who paid to get their children into prominent universities under the guise that they were recruited athletes have been sentenced to longer prison stays. Stephen Semprevivo and Devin Sloane were each sentenced to four months in prison for paying these bribes.
Agustin Huneeus Jr., who participated in both the test-cheating scheme and the athletic recruitment scheme, was sentenced to 5 months in prison.
[NewsNaira]
Marcia
Gregory
---
Share this article!
<!—- ShareThis BEGIN -—> <!—- ShareThis END -—>
What is News₦aira Income Program(News₦IP)

---
News₦aira Income Program (News₦IP) is a system aimed at raising revenue for registered users that browse the NewsNaira Website. An online program driven by a goal of solving the financial problems among the youths, students, middle class and whoever wishes to take advantage of earning opportunity and making money online legitimately in Nigeria as it creates the channel for participants to earn residual income on weekly basis.
more
How News₦IP Works

---
News₦aira has 2 means of generating income for our members.
News₦AP: NewsNaira Affiliate Program - With News₦AP, participants earns ₦1,000 whenever they refer anyone to join NewsNaira Income Program. There is no limit to how many people you can refer.

News₦ARS: NewsNaira Ad Revenue Sharing - With News₦ARS, participants earns residual income bonus by reading news, commentting on articles, publishing forum posts, daily login to their NewsNaira account, and even sharing assigned sponsored post on social media.

We share our ads revenue with you weekly when you make NewsNaira community your news and information household.
more